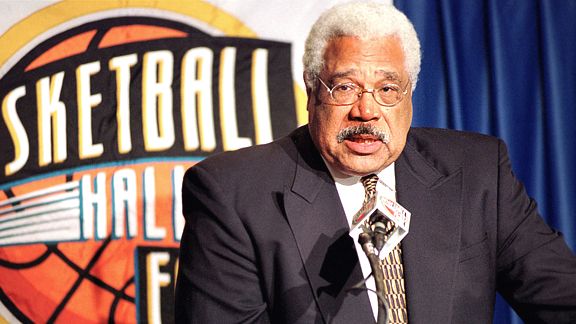 All quotes come from Wayne Embry's autobiography THE INSIDE GAME: RACE POWER AND POLITICS IN THE NBA Please don't sue me.
Bob Lanier was an imposing man: 6'11" and 260 lbs that bullied other grown men around all the time. But right now he was staring at the ground like a scolded child as the full frame of Wayne Embry towered over him. Embry was a former center in the league and the first African American general manager in the league. He had just lectured Lanier to ensure that Lanier would cause no problems once the Bucks acquired him.
Mr. Fitzgerald is the owner, we don't need you to be the owner. Nellie is the coach, and he's a pretty good one. We don't need you to coach. I am the vice president and I help in personnel decisions. We don't need you to do that, either. We need you to come and play basketball to the best of your ability and bring veteran leadership to a talented team of quality people.
***
After the 1967 Milwaukee riots, original Bucks owner Wesley Pavalon took to wearing dashikis and flashing the black power sign. He was friends with Roots author Alex Haley and Arthur Ashe. Before the start of the Bucks lone championship season, he went to a tennis tournament outside of Boston to watch his friend Ashe. His trip doubled as a recruiting mission. He was looking to hire Boston's current Director of Recreation Wayne Embry as the Bucks' Assistant to the President.
Embry had a soft spot for Pavalon. Until Pavalon talked to him, Embry refused to go to Milwaukee after the Bucks took him in the expansion draft. And he couldn't say no to Pavalon now.
Embryhe had been the Bucks calm, veteran leadership for the team's inaugural season and his last as a player. In addition, Embry had negotiated his own contract when his agent proved to be unreliable. This all clearly impressed Pavalon along with Embry's administrative work in Boston. But Pavalon had more motives to hire Embry.
***
Oscar Robertson's contract gave him the power to veto any trade. Robertson and the Bucks were haggling over fifteen thousand dollars and Robertson was threatening to veto any trade without the money.
Embry and Oscar Robertson had been roommates during Embry's eight seasons on the Cincinnati Royals. Embry's first task was to go talk to Robertson.
Embry answered all of Robertson's questions about the organization's structure and finances. He told Robertson he had a great amount of respect for the people there. He told Robertson to accept a trade to the Bucks and he told Robertson that he was accepting a front-office job with the Bucks. He also said:
You're the greatest player ever to play the game, but there's one thing you haven't achieved. You deserve a championship ring.
Then Embry convinced the Bucks to pay the fifteen thousand. They traded Charlie Paulk and Flynn Robinson and never looked back.
***
March 6, 1972, Bucks President Ray Patterson stepped into Embry's office and told Embry that he was leaving to become the Houston Rockets General Manager. Patterson then told Embry to go meet Pavalon.
After several anxious hours, I went to see Wes, and I was surprised to see several of the board members of the Bucks sitting with him. I knew something was up, but I did not know it concerned me.

Wes got right to the point. "We are naming you general manager of the Milwaukee Bucks this afternoon," he said with a smile. "Congratulations."
Embry was speechless.
"Wes took note of my state and asked gently, "Do you have any questions?"

I could not tell him my number one question was, "What in the hell just happened here?" I could not articulate the other questions running around in my brain: "Am I ready? Can I do this? Will I be accepted?"
Embry recounts that the Milwaukee Journal story that day made no mention of race. It seems impossible that there would be no mention of race in the story about professional sports first African American general manager. But alas, the Milwaukee Journal-Sentinel archives seem to not have the actual story. But there is this quote from a reaction piece.
Terry Bledsoe, Milwaukee Journal:
Embry's ability, not his color, earned him this job, and Embry's ability will determine his success in it.
Embry's own thoughts on the appointment:
I could not fail, because it would be a setback for blacks. Forget the fact that hundreds of white general managers had been fired and no one thought twice about hiring another one. What I tried to get across was that we as blacks should be given the same opportunity to fail as whites.
Within three years, Robertson would retire, Kareem Abdul-Jabaar would force his way to Los Angeles and the franchise would go to hell.  These things were well out of his control. What was in his control was getting Brian Winters and Junior Bridgeman in the Kareem trade. He also drafted Sidney Moncrief and Marques Johnson. He also drafted Julius Erving and Alex English. Too bad Erving chose the ABA instead and English was traded away (not by Embry). He was the chief architect of the extremely successful 80s Bucks.
***
Embry's old roommates had a habit of joining the Bucks. When he was a member of the Celtics, Don Nelson was his roommate. After Nelson retired, he made an attempt to be a referee. He was awful.
The biggest disappointment in the summer league was Nellie's performance as a ref. He struggled mightily, and he admitted to me over a couple of beers that he was failing in his bid to become the first ex-player to referee. After several hours of chitchat and laughs, and a few more beers, he asked me again about playing and again I told him no. "Big Man, I'm scared,'' he said. "What am I going to do? The only thing I know is basketball. Can't you help ol' Nells?'' he asked, slurring his words.

A lightbulb went off in my head. I was feeling sorry for him and really wanted to help my old roomie.

"We're looking for an assistant coach,'' I told him. "Would you be interested in that?''
Nelson served under Larry Costello. He became head coach once Costello left and also took the title Director of Team Personnel once Embry resigned as general manager. Embry resigned in 1977 because new owner Jim Fitzgerald stripped Embry of his power. However, Fitzgerald did convince Embry to come back as a consultant/vice president.
Embry guided the inexperienced Nelson through a few seasons. Nelson eventually got the hang of the job and the two got into several disagreements, most notably the Quinn Buckner/Dave Cowens trade. It was that trade that would be the undoing of Embry in the Bucks organization. It is rumored that once Herb Kohl bought the Bucks, Nelson was able to get rid of Embry by claiming Embry lied on an expense report related to the Cowens trade.
Nellie could tell it was not going to be a friendly meeting when I approached him with my slightly raised right hand balled up in a fist. Given the size of my hands, my fist looked like the head of a sledge-hammer. "What's wrong, Big Man?'' the startled Nellie said.

I am not sure how I controlled my temper, but I managed to spit out, "Why did you tell people the reason you did not want me around was because I cheated on my expenses?'' He was shocked and vehemently denied it.

"Nellie, you're lying,'' I yelled. "I have this from reliable sources. My reputation is my most valuable asset. I've worked hard to build it. And I will not let you take it from me.''

He recovered enough to claim that when we were at our camps in New Hampshire, I had rented a car and charged the Bucks. "You should not have done that,'' he said.

I asked if he was referring to the time I had driven up to interview Cowens and reminded him that was official business. "How did you expect me to get there?'' I asked.

"You could have borrowed a car,'' he said, weakly.

"Why do you have to destroy my credibility?'' I roared.

Nellie clammed up. "I've got to go,'' he said and left.

"You are the bottom of the barrel, the scum of the earth,'' I shouted as he hurried through the tables and out of the coffee shop.
It should be noted that this was taken from Embry's autobiography.  We do not have Nelson's or anyone else's word on this matter. Or at least I haven't found it. But since Nelson famously flamed out with Mark Cuban in Dallas and Chris Mullin in Golden State, I think Embry's claims hold up decently.
***
Embry would go on to serve in the front offices of the Cleveland Cavaliers and Toronto Raptors. He would be named Executive of the Year in 1992 and 1998.
Ian is a Bucksketball Contributor and all-around cool dude. Follow Ian Segovia on Twitter. Fan us up on Facebook.