Political reporting is a very different reporting scene than sports reporting. Sub the word "blogging" in for "reporting" and the statement is still true. There are about the same number of names to remember, but often political reading feels like the eating of vegetables to the eating of dessert that sports reading is. There are so many names to remember and so many complexities surrounding the issues these names discuss, but we don't watch these politicians and lobbyists perform on a daily basis, so they aren't stuck quite as deep in our subconscious. 
Plainly put, it's hard to keep track of who says what and what they are about.
So following the arena debate in Milwaukee has been difficult, for me at least. If you've kept up with one article after the next and can recite who feels what about which topic, congratulations. But my hunch is that most people are more like me. I'm more of a Bucks fan than a connoisseur of Milwaukee political and economic development.
But that doesn't mean these issues aren't important. The arena situation is of critical importance to the future of the Milwaukee Bucks. So Preston spent hours and hours, read through tons of articles and pushed his brain to the limit sifting through them to understand who is on record for the arena, who doesn't want to use public funding, who hates the Miller Park Tax and so much more.
Now, we've simplified that information as much as possible and we deliver to you a glossary of sorts about the Milwaukee Arena issue. If there is someone we missed or something you feel needs inclusion, shout at me, Preston or KL and we'll do our best to update.
Thanks. – Jeremy
The Issue Everyone Talks About and Many People Get Angry About
Miller Park Stadium Sales Tax
0.1 percent sales tax to fund, operate and maintain the Milwaukee Brewers' Miller Park facility
Funding plan passed in 1995 after former state Sen. George Petak, R-Racine, became the swing vote by voting for the tax

Petak, who previously said he was going to vote against the measure, was swiftly recalled and lost his seat; he was the first Wisconsin politician to be successfully recalled from office

Applied to five counties, known as the Southeast Wisconsin Professional Baseball Park District: Milwaukee, Ozaukee, Racine, Washington and Waukesha
According to an FAQ released by the District, the tax "will 'expire' after funds are secured to pay for all bonds issued for the construction of Miller Park and maintenance or capital improvement obligations between the District and the Milwaukee Brewers."
The tax started in 1996; according to the District, a new estimate concludes that the tax could sunset between 2018 and 2020, despite much earlier predictions in the past
Little to no support within Milwaukee and surrounding areas to extend the tax — and even if there were, it likely wouldn't be a viable option given the dates at which it's estimated to expire
The Counties
Counties surrounding Milwaukee 
Five counties — or the "Southeast Wisconsin Professional Baseball Park District" — are still paying the 0.1 percent Miller Park Stadium Sales Tax: Milwaukee, Ozaukee, Racine, Washington and Waukesha
Scarce support from surrounding counties for another regional tax
Proactive resolutions against a regional tax in three counties
People
Abele, Chris
Spoke at the press conference introducing new Bucks owners Marc Lasry and Wes Edens

Abele: "To the question that has been bandied about for some time … 'Are we going to be able to hang on to the Bucks?' I don't think there could be a more emphatically, unequivocally positive answer than what we just heard today."

Appointed Teig Whaley-Smith to the Cultural and Entertainment Capital Needs Task Force to represent Milwaukee County's executive office
Not opposed to implementing a sales tax for a new arena (MBJ, March 2014)
Opposes extending the 0.1 percent Miller Park stadium sales tax  for a new facility (MJS, May 2011)
UPDATE: May not support placing an advisory referendum — which would gauge local interest on whether to publicly finance a new arena — on the November ballot (MBJ, June 2014)

Milwaukee Business Journal: "Brendan Conway, communications director for Milwaukee County Executive Chris Abele, said Abele has not taken a position on the proposal because it has not received a full board review. In general, he said, Abele considers advisory referendums a poor use of tax dollars. Each referendum question costs an estimated $25,000 to $40,000."

Bucks season ticket holder (Urban Milwaukee, April 2014)
Attanasio, Mark
Milwaukee Brewers owner
Willing to financially support a new arena (MBJ, April 2014)

Attanasio (via MBJ): "There's a Ted Kellner group at the MMAC looking to support things, so we'd figure out whatever way was smart to do that. But I wouldn't rule out financial support.
Attanasio (via MBJ): "I'm interested in what Senator Kohl's trying to achieve in terms of building an arena in the community. The community needs an arena at some point — not just for the Bucks but for the vibrancy of the community.

Could become a minority owner (MJS, May 2014)
Barrett, Tom
Milwaukee mayor
Spoke at the press conference introducing new Bucks owners Lasry and Edens

Barrett: "We should be shouting from the rooftops because this (the combined $200 million of arena funding from Kohl, Lasry and Edens) is a game-changer for this entire debate."

Supports public funding for a new arena from the city of Milwaukee, provided that Milwaukee County and surrounding counties cooperate with a regional tax (MBJ, April 2014)

Barrett (via MBJ): "I have been consistent on calling for a regional approach (on an arena) and commitment from the governor and the state."
Milwaukee Business Journal: "Barrett says he supports [the arena project] as long as any public costs are shared by city residents as well as their suburban neighbors throughout Milwaukee County and surrounding counties."
Burke, Mary
Leading Democratic candidate for Wisconsin governor, opposing Scott Walker
Sees public funding for a new arena as a "last resort" (MBJ, May 2014)

Milwaukee Business Journal: "Burke said Tuesday that she would only support public financing for a new arena in downtown Milwaukee 'as a last resort. Responding to a question, Burke said she is hopeful that a new Milwaukee arena, estimated to cost between $400 million and $500 million, would be entirely privately financed."

Believes a new arena will be an asset to the community (MBJ, May 2014)

Milwaukee Business Journal: "Burke said a new facility would be important to the Milwaukee area and pointed out that Miller Park, which was financed in part by a .1 percent sales tax, had been a "huge asset" to the state."
Daniels Jr., John
Chairman Emeritus of Quarles & Brady law firm
Chair of the Greater Milwaukee Committee (GMC)

Per its website, "The Greater Milwaukee Committee is a private sector civic organization whose mission is to contribute to the cultural and economic base of the Milwaukee Metropolitan area."

Co-chair of the Cultural and Entertainment Capital Needs Task Force
Officer on the MMAC board of directors
Advocate for a new arena (MBJ, June 2013)

Milwaukee Business Journal: "[Daniels] said Milwaukee needs a new arena to maintain the area's attractiveness to talented business executives and young professionals but he stopped short of giving specifics on who should lead a new arena campaign or how a facility would be funded."
Edens, Wes
Co-owner of the Milwaukee Bucks
Along with co-owner Marc Lasry, promised to commit at least $100 million to a new arena (on top of the $550 million they paid for the franchise)
Needs to secure an arena deal by November 2017, otherwise the NBA has the right to purchase the team back for $575 million  due to a provision put in place during the sale by former owner Kohl (ESPN, April 2014)
Will be "very involved" in the arena process and believes some form of public funding will be needed (MBJ, May 2014)

Milwaukee Business Journal: "Edens told me he and Lasry will be very involved in the process of planning for a new arena. … Edens said he probably will take the lead on the nuts-and-bolts of the arena discussion because he has more experience than Lasry on public-private partnerships."
Edens (via MBJ): "I've done a lot of different public financings on different developments and in partnership and the successful ones are win-win. And I think this is going to be a very successful one."

Looking at bringing in investors for the team and/or a new arena (MJS, April 2014)
Believes a new arena will have a positive economic impact on the community (MJS, April 2014)

Edens (via MJS): "The value proposition at the end of the day is what will carry the day. It's not about asking for a public handout, or asking for incremental taxes, that's not what people are responsive to. In my judgment, they shouldn't be. It's really about what impact a new arena can have on the community. You keep the Bucks in the community. Revitalize the downtown…It has to be a positive economic result for taxpayers to feel good about getting behind it."

Hoping for a broader area of development around the new arena (MJS, May 2014)

Milwaukee Journal Sentinel: "Edens and Lasry also have ambitious plans that seem to indicate a much larger development beyond a new arena. Edens specifically mentioned the Staples Center in Los Angeles. When that arena was built, there was little development around it."

Set an aggressive timetable for a new arena (MJS, April 2014)

Edens (via MJS): "I think getting something designed, financed and ready to come out of the ground in the next 12 months is a very aggressive but a very realistic timeline, so long as there is engagement locally, which I believe there will be."

UPDATE: Set to announce new minority investors on July 15 (MBJ, June 2014)

Milwaukee Business Journal: "Lasry also said he anticipates revealing by July 15 the identity of minority investors in the Bucks, including some investors with local ties. He declined to identify any of the investors, but said the NBA wants most of them to invest at least $5 million in the team."
Gimbel, Frank
Chair of the Wisconsin Center District

According to its website, "The Wisconsin Center District (WCD) is a government body created … to fund, build and operate the Midwest Express Center (now Wisconsin Center) in downtown Milwaukee, and continue operating the existing venues now called the U.S. Cellular Arena and Milwaukee Theatre. … The mission of the Wisconsin Center District: to maintain, and continuously build, our professional reputation in the convention, entertainment and sporting events industry on all levels, both locally and nationally …"

Represents the Wisconsin Center District on the Cultural and Entertainment Capital Needs Task Force
Seeks to expand the Milwaukee Convention Center through $200 million of public financing that's tied to a new arena (MBJ, April 2014)

Milwaukee Business Journal: "Gimbel said expanding the downtown Milwaukee convention center will cost about $200 million and he plans to seek funding through a possible sales tax that also would pay for a new downtown arena and Milwaukee County cultural assets. … The fact that Gimbel plans to hitch his project's wagon to the future of a broader group of cultural, sports and entertainment assets issues answers the question of whether the Wisconsin Center District would seek a separate funding source. 'The opening strategy is going to be that this should be part of a grand plan that embraces a basketball arena, the zoo, parks, entertainment and cultural groups,' Gimbel [said]."

Considering a comprehensive "entertainment district" that would link the Wisconsin Center with a new arena and other novelties (MBJ, May 2014)

Milwaukee Business Journal: "An expanded Wisconsin Center and a new arena could serve as anchors to a 'mixed-used entertainment district' in downtown Milwaukee … It includes a conceptual drawing that shows a covered connector with retail between the two venues along with an office and retail complex, commercial development, high-rise residential building and an outdoor plaza. Gimbel told the Milwaukee Business Journal last week the plaza could resemble Millennium Park in downtown Chicago."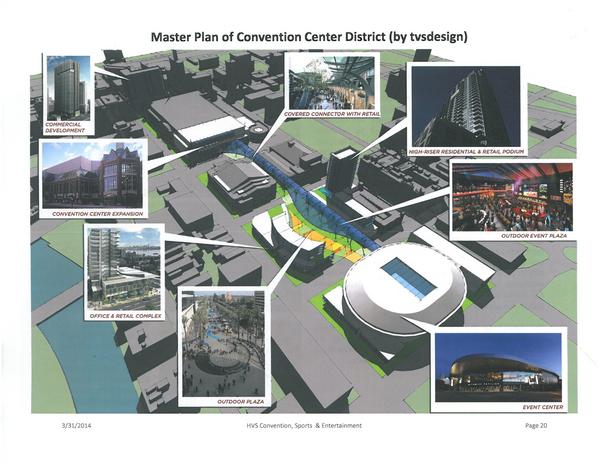 Vision contrasts with that of Rocky Marcoux, whose plans would require dismantling U.S. Cellular Arena and The Milwaukee Theater — both of which are owned by Gimbel's Wisconsin District Center (MBJ, May 2014)

Milwaukee Business Journal: "Gimbel's plan, derived by a consultant to the Wisconsin Center district, envisions a north-south axis for an entertainment district around a new arena. Marcoux's concept would be centered on an east-west axis along West Kilbourn Avenue between North Fourth Street and the Milwaukee County Courthouse via MacArthur Square."
Hammes, Jon
Founder of Hammes Company, a  consulting firm that was hired by the Metropolitan Milwaukee Association of Commerce (MMAC) to be involved in the arena discussion (MBJ, January 2014)

MMAC president Tim Sheehy: "We have engaged Hammes sports development to help us better understand the projects and look at what other communities have done and do some creative thinking."

Could become an investor in the franchise and/or arena (MBJ, January 2014)
Kellner, Ted
Executive chair of Fiduciary Management (FMI) firm
Chair of the MMAC
Member of the BMO Harris Bradley Center board of directors
Active advocate for a new arena
Supports public financing of a new facility (MBJ, April 2014)

Milwaukee Business Journal: "Kellner vows that the current MMAC-convened task force must break through objections raised by central city advocates and suburban politicians to implement and execute a plan. Ultimately, voters would have to decide on whether to adopt a sales tax."

Could become an investor in the franchise and/or arena (MJS, June 2014)
Kohl, Herb
Former Bucks owner
Promised to donate at least $100 million to the development of a new facility for the Bucks
Will likely serve as an ambassador of sorts for the team to secure further private and public funding for an arena
Lasry, Marc
Co-owner of the Milwaukee Bucks
Along with co-owner Wes Edens, promised to commit at least $100 million to a new arena (on top of the $550 million they paid for the franchise)
Needs to secure an arena deal by November 2017, otherwise the NBA has the right to purchase the team back for $575 million  due to a provision put in place during the sale by former owner Kohl (ESPN, April 2014)
Looking at bringing in investors for the franchise and/or a new arena (MJS, April 2014)
Hoping for a broader area of development around the new arena (MJS, May 2014)
UPDATE: Confirmed that the NBA put a clause in the sale of the team that allows the league to buy the Bucks back from the new owners in 2017 if there's not enough progress on a new arena (MBJ, June 2014)

Lasry (via MBJ): "The problem we have is in our agreement with the NBA if an arena is not built, the NBA has the right to take the team back. I think we've got three or four years to do that. So we're under huge pressure to do it. Wes has said it and I've said it: There are no other alternatives. It was what the NBA wanted. … If these teams are worth more today, the NBA has a bigger incentive (to buy back the Bucks). So we've got to try to get this done."

UDPATE: Acknowledges need for public financing to build a new arena (MBJ, June 2014)

Lasry (via MBJ): "To get it done, it's going to end up being a partnership. We need to do it together. Wes and I want to work with the community and sit down with the civic leaders.

UPDATE: Set to announce new minority investors on July 15 (MBJ, June 2014)

Milwaukee Business Journal: "Lasry also said he anticipates revealing by July 15 the identity of minority investors in the Bucks, including some investors with local ties. He declined to identify any of the investors, but said the NBA wants most of them to invest at least $5 million in the team."
Marcoux, Rocky
Commissioner of Milwaukee's Department of City Development
Represents the City of Milwaukee on the Cultural and Entertainment Capital Needs Task Force
Previously thought the lot just south of the Bradley Center, which hosts U.S. Cellular Arena and The Milwaukee Theater, would be an ideal site for a new arena (MJS, September 2013; MBJ, June 2014)
Still an advocate for an expansive development project near the current BMO Harris Bradley Center (MBJ, May 2014)

Milwaukee Business Journal: "Marcoux said he was thinking big when he floated his own plan to create a vibrant new-development zone north and west of the city's convention center that could help revive nearby West Wisconsin Avenue including the struggling Shops of Grand Avenue. 'If we're a city on the move, we've got to think big,' Marcoux said. 'We've got to think beyond one building.' The one building Marcoux referred to is a new downtown arena. … I interviewed leading local architects and urban planners who agree with Marcoux that an arena and surrounding private development would give the city the biggest bang for the buck on the blocks surrounding his proposed arena site between Fourth and Sixth streets along Kilbourn. As Marcoux said, boosting West Wisconsin Avenue, including a potential new convention hotel at Fourth and Wisconsin, would be the best use of any city funding. 'If we're going to make this public investment, where are our strongest needs right now?' Marcoux said. 'I believe the further the new complex gets away from Wisconsin Avenue, the more we hurt Wisconsin Avenue.'"

Project ideas run in stark opposition to Frank Gimbel, whose Wisconsin Center District owns both U.S. Cellular Arena and The Milwaukee Theater; Marcoux's plans would require tearing down the two buildings, to which Gimbel strongly objects (MBJ, May 2014)

Milwaukee Business Journal: "Gimbel's plan, derived by a consultant to the Wisconsin Center district, envisions a north-south axis for an entertainment district around a new arena. Marcoux's concept would be centered on an east-west axis along West Kilbourn Avenue between North Fourth Street and the Milwaukee County Courthouse via MacArthur Square."

However, will "defer" to Lasry and Edens on potential locations for a new arena (MBJ, June 2014)
Marcus, Steve
Chairman of the Marcus Corporation board
Minority owner of the Milwaukee Brewers
Member of the Wisconsin Center District's board of directors
Former member of the MECCA board of directors (ESPN 30 for 30)
Possible investor in the franchise and/or arena (OnMilwaukee.com, June 2014)

OnMilwaukee.com: "Marcus told OnMilwaukee.com that while no one has asked if he would be willing to invest, 'if they did, obviously we would take a look at it for sure.'"

Believes the Bucks are imperative to keeping Milwaukee on the map (OnMilwaukee.com, June 2014)

Marcus (via OnMilwaukee.com): "There are only 30 of these basketball franchises available, and I don't know of any other way, besides through professional sports, that a community can get its name in every newspaper, on every radio station, on every TV station, every single day during the season, whether you're winning or losing, always in a positive way. … Seattle didn't care about their team until they didn't have it. And now all of a sudden 'woe is me,' and they had to have it. It's one of those things — when you're well you don't know what it's like to feel sick, I guess. It's one of those things that we really should not lose because the marketing value, what it says about our community, speaks volumes."
Marotta, Marc
Business lawyer and partner at Foley & Lardner law firm
Chairman of the BMO Harris Bradley Center board
Led the press conference introducing new Bucks owners Lasry and Edens
A strong proponent of a new arena
Estimates that the current BMO Harris Bradley Center would need $100 million within the next decade to sustain operations (April 2014)

Milwaukee Business Journal: "Marotta's point …  is that the public could face expenses even if a new downtown arena is not built. … Marotta is an outspoken proponent of a new arena for downtown Milwaukee, and clearly he and other new-arena supporters could use this information as an argument for dedicating public funds instead to a new, up-to-date arena."

Views the developing Park East corridor as a viable location for a new arena (MBJ, July 2014)
Sees further opportunities for private funding (MBJ, April 2014)

Milwaukee Business Journal: "The pro-arena effort will require additional funds from civic-minded individuals, philanthropists and foundations, [according to] Marotta."
Marotta (via MBJ): "I think there definitely will be an opportunity to contribute. There is a lot of opportunity for private money in this (new) arena."
Sheehy, Timothy
President of the MMAC
Represents the MMAC  on the Cultural and Entertainment Capital Needs Task Force
Leading advocate for a new arena
Believes there is still a need for public financing (MBJ, April 2014)

Sheehy (via MBJ): "I don't think it's realistic to say we could do this without any public financing."

Working on securing more private financing — via various foundations and individual investors — before pitching options to the public (MBJ, April 2014)

Milwaukee Business Journal: "There is more to do on the private side to bring us closer to a discussion on how public financing could make this a reality."

Considering public financing alternatives (MBJ, April 2014)

Milwaukee Business Journal: "Public funding could be a possibility even without a sales tax, Sheehy said. Other funding sources could include government loans and a so-called super tax incremental financing district that collects not only property taxes but also sales and income tax revenue from the arena development zone."

UPDATE: Intrigued by Gov. Scott Walker's inquiry about using the "jock tax" to help fund the arena and thinks it has the potential to raise a total of $100 million — perhaps supplanting a new sales tax (MBJ, June 2014)

Milwaukee Business Journal: "Wisconsin Gov. Scott Walker's statements to the Milwaukee Business Journal about possibly tapping NBA players' income tax for arena construction funding encouraged arena supporters, and Tim Sheehy of the Metropolitan Milwaukee Association of Commerce suggested such a plan could eliminate the need to enact a sales tax. … The income tax on NBA players raises in the ballpark of $8 million to $10 million per year, MMAC president Sheehy told me Monday. At $10 million per year, the tax would support public financing in the neighborhood of $100 million, Sheehy said."
Milwaukee Business Journal: "The advantage of earmarking for debt payments NBA-player income tax and sales tax from Bucks home games is that the proceeds likely will increase in future years, Sheehy said. NBA salaries continue to increase and, assuming the Bucks on-court record and attendance improve, sales tax on merchandise, concessions and ticket sales also should increase, he said. 'This has a snowball effect to it,' Sheehy said."
Walker, Scott (and the Wisconsin state Legislature) 
Republican Wisconsin governor
Up for re-election Nov. 4, 2014; first term ends at the start of 2015
He and the state Legislature would need to approve a sales tax (or any other variation, such as a Super TIF)
Thinks it will take some public funding to get an arena deal done (WSSP, December 2013)

Walker (via WSSP 1250): "I think, in the end, this massive group that's been put together of civic leaders will probably come up with a unique series of things that require some public, but also some private support as well — because that's going to be part of the key of getting this done."

Waiting for a concrete plan to be presented to him (MJS, April 2014)

Walker (via MJS): "So far, there is no plan on the table. Once we hear details of a plan from elected officials and civic leaders in Milwaukee, we will review and evaluate any role that might involve the state government. Any further comment right now would be premature."

Non-committal on what he and the state Legislature will do to help the arena initiative (WSSP, December 2013)

Walker (via WSSP 1250): "From our standpoint, it would be some sort of way for the state [government] to be involved. We've helped with the BMO Harris Bradley Center for the last couple years with some maintenance — my predecessor did the same thing. That kind of helps as they tread water looking what to do next. In terms of what can the state [government] do long term? That's wide open. We'll look at many different idea I would imagine. You have Tim Sheehy and the big group that's been involved in this. There's a lot of discussion about not only the arena itself, but does that evolve into other things like helping the public museum, helping the art museum, helping the zoo? Years ago, I would have thought that might have been a hindrance to getting something done. These days, I think having a broader coalition of things that obviously have real needs in this community and across Southeast Wisconsin might actually benefit it."

Will only support an arena tax if city and/or county residents vote for it via a referendum or other voting mechanism (MBJ, August 2013; MBJ, February 2014)

Milwaukee Business Journal: "[Walker] said the only way he and state legislators would consider a tax for an arena would be if local residents first were given a chance to vote on the matter."
Walker (via MJS): "I think for anything to pass the Legislature — and I think appropriately so — there's going to have to be some buy-in from whoever the taxpayers are that are affected."

Opposes extending the 0.1 percent Miller Park stadium sales tax for a new facility (MJS, May 2011)
UPDATE: Looking into the "jock tax" and other alternatives to a sales tax (MBJ, June 2014)

Milwaukee Business Journal: "Wisconsin Gov. Scott Walker, who has been noncommittal about state funding for a new downtown Milwaukee arena, told the Milwaukee Business Journal Friday that his staff is studying the possibility of tapping income taxes from NBA players and other tax revenue directly generated by Milwaukee Bucks games to possibly pay off any public financing necessary for a new arena. The public financing could include bonds or a tax incremental financing district, Walker said. However, at this point, the idea is a concept and Walker told the Milwaukee Business Journal he is not making a proposal."
Walker (via MBJ): "Our thought is…it's good to start looking at numbers now to know what that real dollar amount is and then say reasonably at that level it might warrant that being the basis of some sort of discussion. … We've had a lot of people bring ideas and traditional ideas like a sales tax, which I've said I don't think goes anywhere without, at minimum, a referendum. But the idea of saying what is the real number associated with the team being here? And we don't have that quantified yet."
Groups
Milwaukee Admirals
Professional hockey team for the AHL
Tenant of the BMO Harris Bradley Center
Admirals owner Harris Turer and president Jon Greenberg are both members of the Cultural and Entertainment Capital Needs Task Force
Unsure whether a new arena will accommodate an ice rink and haven't been in direct contact with MMAC (OnMilwaukee.com, June 2014; MBJ, May 2014)

Turer (via OnMilwaukee.com): "I hope that we would be part of a new facility if a new facility does come to fruition. I have not had that discussion with the powers that be that say, absolutely, there will be ice in it. Do I believe there will be? People have hinted at it, that yes, it's very likely, yes. But once you add ice, that's an expensive addition. It doesn't just happen. You don't just throw some water out and it freezes because it's a little bit colder in the building. There's a lot of expense that goes into having a facility that has ice."

Turer is open to the possibility of investing in the Bucks and/or a new arena (MBJ, May 2014)

Turer (via MBJ): "All I can say to you is I'm willing to sit down and have that discussion."
Common Ground Fair Play
Mission, per its website:

 "Common Ground is a group of nonpartisan, proactive, everyday citizens in Southeastern Wisconsin, dedicated to identifying pressing social problems facing our community and bringing about creative solutions."

Represented on the Cultural and Entertainment Capital Needs Task Force by lead organizer Keisha Krumm
Seeks at least $150 million in funding for athletic facilities within Milwaukee public schools if the new arena receives public financing

Jennifer O'Hear, chair of Common Ground's Fair Play campaign (via MJS): "Building a state-of-the-art play space for a few millionaire athletes without upgrading the inadequate, unsafe play facilities used by thousands of Milwaukee County kids is not a just and equitable use of public money. … If we are going to use our tax dollars to build a new arena for a few professional athletes, it is only right and just that we also build great play spaces for our kids. If the Bucks get a great place to play, our kids should get great places to play, too."
Cultural and Entertainment Capital Needs Task Force
Established in 2013 by the MMAC in lieu of the Bucks' need for a new arena and the financial hardships of Milwaukee's arts and culture institutions (the Wisconsin Center, Milwaukee County Zoo, Marcus Center for the Performing Arts, Milwaukee Public Museum, etc.)
Two goals, according to its website:

1. "Establish a high-level vision of how our community's signature cultural and entertainment assets will help shape the region's future as a vibrant, world-class place to live, learn, work and play."
2. "Identify one or more funding strategies that will enable our region to ensure the long-term survival of key cultural and entertainment facilities that we are currently in danger of losing" (emphasis mine).

Consists of 48 local leaders
Supposed to meet every one to two months
Notable members:

Co-chair John Daniels Jr. (Quarles & Brady)
Sarah Watterson (Fortress Investment Group — Wes Edens' company)
JoAnne Anton (alternate – Milwaukee Bucks/Herb Kohl Enterprises)
Frank Gimbel (Wisconsin Center District)
Jon Greenberg (Milwaukee Admirals)
Harris Turer (Milwaukee Admirals)
Timothy Sheehy (MMAC)
Rana Altenberg (Marquette University)
Keisha Krumm (Common Ground)
Teig Whaley-Smith (Milwaukee County Executive's Office/Chris Abele's representative)
Marina Dimitrejevic (Milwaukee County Board)
Matthew Parlow (Bradley Center Board)
Rocky Marcoux (City of Milwaukee)
Robert Bauman (City of Milwaukee/Milwaukee Common Council)
Marquette University
Men's basketball team is a tenant of the BMO Harris Bradley Center
Represented by Rana Altenburg, MU's vice president for public affairs, on the Cultural and Entertainment Capital Needs Task Force
Apolitical position on a new arena thus far (OnMilwaukee.com, June 2014; MBJ, May 2014)

MU spokesman Andy Brodzeller (via MBJ): "As no proposals have been suggested, the university has not taken a position on the possibility of a new arena."
Metropolitan Milwaukee Association of Commerce (MMAC)
According to its mission statement:

The MMAC is "committed to increasing the economic vitality of the metro Milwaukee business community. The organization's programs and resources center around three core competencies. The MMAC is the region's best business network, bringing members together to develop business, share best practices and build stronger business relationships. We are the key private-sector partner for economic development, working to strengthen our business base and attract and retain jobs and the talent to fill them. And we serve as the region's advocate for member businesses at the local, state and federal levels."

President is Timothy Sheehy; chair is Ted Kellner
Leading organizer for a new arena
Represented on the task force by Sheehy, who has been heavily involved in arena planning
In 2013, established the Cultural and Entertainment Capital Needs Task Force in lieu of the Bucks' need for a new arena and the financial hardships of Milwaukee's arts and culture institutions
Milwaukee Mayor Tom Barrett suggested that the MMAC — which features a "membership [that] is heavily Republican and includes major financial supporters of [Gov. Scott Walker]," according to the Milwaukee Business Journal — was strategically moving slowly on arena plans, though this notion was refuted by Sheehy (MBJ, February 2014)

Milwaukee Businses Journal: "The task force held its first meeting Dec. 13, 2013, its second meeting Feb. 4 and the next is scheduled for March 18. 'I think MMAC's strategy all along has been 'let's wait till after November," Barrett said. If Walker is re-elected, the governor likely will turn his sights to a 2016 presidential bid and he may not take any action on the arena for another two years, said Barrett, who lost two gubernatorial races to Walker. MMAC president Tim Sheehy said the task force needs extensive time to study the issues, generate possible funding plans and seek regional support. Politics did not play a role in the task force's schedule, he said."
Milwaukee Common Council
Legislative body consisting of a representative from each of the city's 15 districts
The council's responsibilities, per its website:

"The Milwaukee Common Council exercises all policy-making and legislative powers of the city, including the adoption of ordinances and resolutions, the approval of the city's annual budget, and the enactment of appropriation and tax levy ordinances. The council also has approval over the mayor's appointments of cabinet heads to direct day-to-day operations of city departments. In addition to their powers as legislators, council members serve as district administrators, responsible to the citizens in their districts for city services."

Hosts at least two critical viewpoints on publicly financing a new arena

At the behest of Alderman Michael Murphy — who serves as the president of the council — Milwaukee's Legislative Reference Bureau released a report in April that found that new arenas do not bring about significant economic benefits to local communities
Murphy: (via MJS): "Given the community's current fiscal challenges to provide basic services like police and fire protection, it's safe to say that publicly financing a new arena would further strain residents' and municipal budgets. This report raises serious doubts about the type of return Milwaukee could expect on its investment, and I hope it tempers some of the enthusiasm the business community has for public financing of such a project."
Alderman Nik Kovac (via BizTimes Milwaukee): "The NBA has been printing free money for 20 years. I'm not asking them not to make money. I'm just asking them to cover the capital investment that allows them to make money. I'm an old-fashioned guy; I still like capitalism. I don't believe in Vladimir Putin-style corporate socialism, which is what the NBA believes in. . … The talk of contribution to me should be off the table – any public contribution that does not involve a direct return on investment. I will loan them money, I will bond them money, but in my opinion, we shouldn't be giving them a dime. It's a private business. … (Owners of professional sports teams) have managed to create, frankly, an extortion racket, in which the public pays them or else. And they do that through a legal monopoly, which shouldn't be legal in my opinion, especially given that they're extorting municipalities that clearly have other needs."
Milwaukee County Board of Supervisors
Legislative body consisting of a representative from each of Milwaukee county's 18 districts
The board's responsibilities, per its website:

"The Board's power to determine policy and direct county government comes from its state vested authority to adopt resolutions and ordinances.  Because of this authority, the Board is able to establish programs, services and laws for the county. One of the major responsibilities of the Board is to adopt the annual county budget.  … At regular meetings of the County Board, supervisors consider various ordinances and resolutions affecting county government.  Much of the work is conducted through the Board's seven standing committees.  At this level, committee members hear testimony supervisors  proposing legislation, reports from departments and outside agencies or the public."

 Reviewing a proposed advisory referendum on a new local tax for an arena (NBA.com, June 2014)

NBA.com: "Funding plans are still in the beginning stages. A proposed referendum, which would be placed on the Nov. 2 electoral ballot to gauge public sentiment on tax money being spent for a new arena, was referred back to the County Board of Supervisors last month. 'There is still plenty of time for this to happen,' (Supervisor David) Cullen, a supporter of using public funding, wrote in his e-mail."

UPDATE: The board is delaying a vote on whether to include the referendum on the November ballot; County Executive Chris Abele may object to such a referendum due to its cost  (MBJ, June 2014)

Milwaukee Business Journal: "Supervisor John Weishan called for the nonbinding referendum to be put on the November ballot. … The referendum item was pulled from the Thursday agenda for the board's Judiciary, Safety and General Services Committee at the start of its meeting. . … That move drew a complaint from Weishan, who said delaying a review until July would put a time crunch on putting the item on the November ballot. He said he will ask the board to vote on the proposal during its June 26 meeting. …The referendum must be approved by Aug. 26 in order to be put on the November ballot. If it is approved next month, and then vetoed, the board may not have a chance to override the veto before the end of August, Weishan said."

General hesitancy for publicly funding a new arena

NBA.com: "While Milwaukee officials, including Mayor Tom Barrett, have indicated the city is willing to commit public funds, county officials remain opposed — if not outright hostile — to any notion of helping pay for a new arena."
Marina Dimitrijevic, the board's chair, "supports a sales tax … but only if a portion of the proceeds go to support transit services," according to the Milwaukee Business Journal.
Supervisor David Cullen (via NBA.com): "I have not sensed a major change in public attitude toward the funding of a new arena for the Milwaukee Bucks since the proposed sale was announced. I would say that the public is pleased that both Senator Kohl and the proposed new owners have made a substantial financial commitment to the cost of building a new arena."
Supervisor  Deanna Alexander (via NBA.com): "I think the change in attitude is less about what people are saying and more about what they are not saying. Months ago people had a generally negative attitude about financing a new arena. I think that the sale of the Bucks to new owners — who are demonstrating a real interest in Milwaukee — has had a neutralizing effect."
Supervisor David Bowen (via Urban Milwaukee): "As Vice-Chair of the Economic Development Committee, I am pleased by this huge boost to the future of development of Milwaukee County and Southeastern Wisconsin. The new arena can be accomplished together under the deadline of 2017 with private and public buy-in that supports the arena and other public resources needed to expand our economy for a better Milwaukee."
The NBA
This past September, NBA commissioner Adam Silver stated during a visit to Milwaukee that the BMO Harris Bradley Center is unfit, outdated and too small by NBA standards (MBJ, September 2013)

Silver (via MBJ): "At the end of the day compared to other modern arenas in the league, this arena is a few hundred thousand square feet too small. It doesn't have the sort of back-of-house space you need, doesn't have the kinds of amenities we need. It doesn't have the right sort of upper bowl/lower bowl (seating) configuration for the teams frankly that Milwaukee wants to compete against."

Set a 2017 deadline for building a new state-of-the-art facility, which is expected to cost between $400 and $500 million
Due to a clause inserted into the sale agreement by former Bucks owner Kohl, the NBA holds the right to purchase the team back from new owners Lasry and Edens for $575 million (Lasry and Edens paid $550 million) if they are unable to come to an arena deal by 2017, when the Bucks' lease with the BMO Harris Bradley Center ceases (ESPN, April 2014)